A World Class Data Migration Service
The NSC Migration Toolset has a history of success in moving our client's technology forward since the mid 1990s.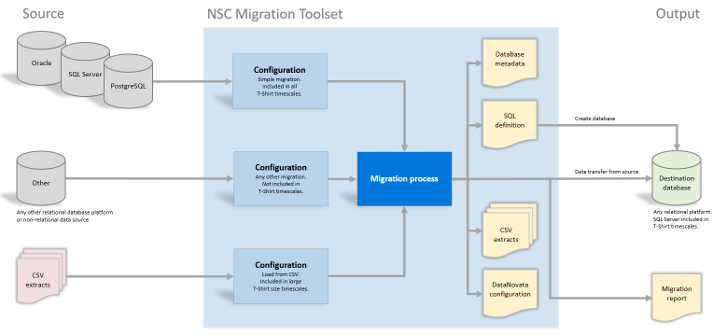 The NSC Migration Toolset is able to migrate data from a wide range of databases from both relational (Oracle, SQL Server, DB2, Informix, Ingres etc) and non-relational sources (ISAM, VSAM, IMS, IDMS, flat files etc).
Verification reports attest to the integrity of each migration.
The NSC Migration Toolset is constantly evolving to cater for new platforms.
Request a Meeting
DataNovata
DataNovata is the most effective way for you to access meaningful data history on digital platform, independent of any other application author and NSC Group is the #1 service provider to make this happen for you.
We Offer Help With:
Data Discovery:
NSC Group Data Technicians will analyse your database, the schema, table structures and meta data to determine the optimal solution.
Assessment of Business Requirements:
NSC Group makes it easy for you to engage your business users and develop a list of key criteria for data access requirements and configure your solution around those parameters.
Design-Build the Solution:
Our team has the depth and diversity of experience to innovate and rapidly create the ideal way to access your data. Once we have your key criteria we will adapt DataNovata to meet and exceed your expectations.
Deployment:
After UAT sign-off NSC Group will make sure that the solution is deployed to the exact environment you need for your organisation to access and benefit from the DataNovata solution.
Training & Documentation:
It goes without saying that we onboard and nurture users with all the tools they need to be more efficient in their tasks.
Ongoing Maintenance & Support:
Our expert technicians will be there if anything goes wrong, or you need to add something extra. Our services are dynamic and designed to improve outcomes at every step of your journey.
Request a Meeting
NSC Can Help You
Decommission unused applications

Map data threads across multiple systems

Migrate data repositories from on-premise to the cloud

Manage regulatory requirements

Build an accessible archive platform
Planning
Data modernisation can be an uphill battle given the number of databases that sit within a typical large enterprise application portfolio.
Our job is to simplify, accelerate and remove the obstacles.
We will assess your database landscape and recommend the fastest, most economical path to take all your data history to the digital frontier, with the least disruption to your business user and IT services community.
Request a Meeting